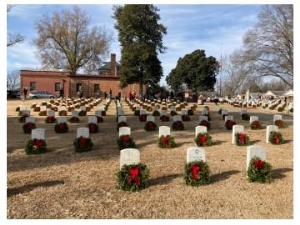 It's once again the time of the season to consider support to a great organization - Wreaths Across America. This non-profit provides wreaths to be placed on Veterans' graves during the Christmas Season. In addition, by donating a wreath you can simultaneously support another great effort - Veteran Smiles Foundation! ALL donations through Wreaths Across America (WAA) received by VSF go to provide financial support for veterans within the greater Wake Forest area seeking improved oral health (provided through East Carolina University School of Dental Medicine in Lillington).
Each wreath costs the donor $15. Of that amount, $5 will go to the local sponsor group, Veteran Smiles Foundation, if - and only if - the donor correctly follows the steps on the Wreaths Across America website. If not, there will be a wreath donated 'somewhere', with most going to Arlington National Cemetery, but no funds will be distributed to Veteran Smiles Foundation (VSF) !!!!
Here is the way for you to donate:
a. Go to the wreathsacrossamerica.org website.
b. Under the large red button in the center, click on "Local Sponsorship Group".
c. Select the desired number of wreaths you would like to donate.
d. Type in NC0383P within the 'Select Group to Support'; you should see Veteran Smiles Foundation; click on it.
You should then see both Veteran Smiles Foundation as the sponsor group and also Raleigh National Cemetery as location.
e. If you then click on the red button "Review my Sponsorships", you will proceed to the "who is donating" and how to pay sections.
If you follow these steps, Veteran Smiles Foundation will benefit with $5 of your $15 per wreath donation. If you do not, your donation will process as a general purpose wreath to go somewhere unknown to you.
This year's wreath laying ceremony will be on Saturday, 17 December 2022, at the Raleigh National Cemetery at 501 Rock Quarry Road, Raleigh, NC 27610. Wreath laying begins at 1000 hours. All are welcome!

If you have any questions or need help, contact David E McCracken, 1133 Santa Cruz St, via dem32415@aol.com or 828.550.5980 and we'll figure out an option to make the desired donation.