google-site-verification=Na7hIMfjB7Xph4C6rrdZ1Rr8yaHLyV6kQTW2ukDhqA0
22 November 2020 - Post Presents National EMT of the Year Award:
EMT Jared Ray of Eastern Wake County Emergency Service was presented with the National EMT of the Year award at their Wendell facility. Paramedic Ray was the recipient of Post 8466's local Post EMT of the Year award for 2019, which was presented last February. His nomination then proceeded up to the National level, resulting in this award. In 2018, Ray graduated from Johnston Community College, where he was valedictorian of his paramedic class. He has since received several other certifications and is currently pursuing his Bachelor's degree, with hopes of attending Medical School. His supervisors praised his dedication to duty and service before self. Many thanks to Paramedic Ray, and we wish him the very best in the pursuit of his dreams. Ray's parents and sister were on hand as well as District Chief Kymberly Lamm, Chief Garland
Tant and several members of VFW Post 8466.
12 November 2020 - Post Presents National Firefighter of the Year Award:
In a very moving ceremony, VFW Post 8466 was honored to present the VFW National Firefighter of the Year Award to the family of the late Firefighter/Traffic Officer Douglas Young of the Rolesville Rural Fire Department. On hand to accept the award was Patsy Young, the widow of the recipient along with several family members. Speakers included Rolesville Mayor Ronnie Currin, Rolesville Fire Chief Rodney Privette and Mrs. Young herself. Many members of VFW Post 8466 were on hand, including Emcee and First Responder Award Committee Chair Rich Tedesco, Post Commander Joe Csuka and District Commander David Martin. Firefighter Young was the recipient of the Post 8466 Firefighter of the Year award last February, and his nomination advanced all the way to National, resulting in this very prestigious award.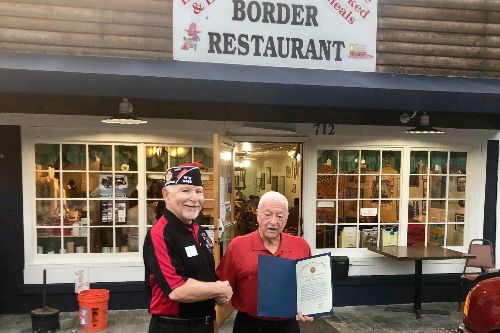 24 Oct 2020 - VFW Post Presents Certificate to Border Restaurant:
Joe Csuka, Commander of Wake Forest Memorial VFW Post 8466, presented an official Certificate of Appreciation to Jerry Ammon, owner of the Border Restaurant for the support he and his patrons have given to our organization over the past year. The restaurant has actively participated in collecting funds in support of the VFW programs that assist local veterans needing help resulting from injuries sustained while in military service. The patrons dining at the North Main Street restaurant regularly deposit extra pocket cash in the Veteran container while paying their food bill. Periodically, the cash is retrieved and deposited in the VFW's Relief Fund where disbursements are made to worthy veterans.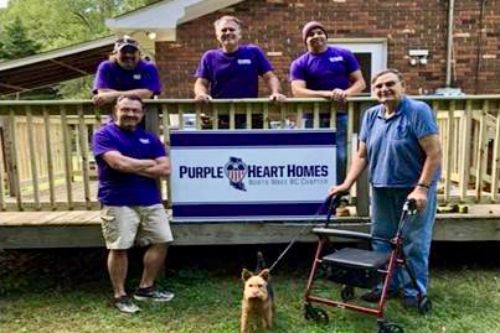 16 Oct 2020 - Veteran Receives Home Repair Assistance:
The North Wake Chapter of Purple Heart Homes is a national organization dedicated to assisting disabled veterans receive help in making improvements to their home to accommodate their disabilities. Meet
Henry (Hank) Pierwola. Hank is a Vietnam Veteran and has been awarded the National Defense Service Medal, Vietnam Service Medal and the Vietnam Campaign Medal. "It was an honor to serve a man that served for our country and our freedom", said Joe Sheehan, Chapter spokesman. Hank is a member of Walter E. Cole American Legion Post 187 and Wake Forest Memorial Veterans of Foreign Wars Post 8466. Purple Heart Homes was able to fix a few unsafe things in his home that he is not able to do for himself. They put in some Ground Fault Circuit Interrupters, (GFCI) to fix some wiring issues. They also installed a new bathroom fan, outdoor flood lights and fixed a dilapidated deck. Thanks to Home Depot Foundation for providing materials and for the crew in giving their Sunday to do this work! Local veterans are delighted that "Hank" is the recipient of this assistance.
9 Oct 2020 - Post 8466 "Chuck Wagon" Provides Refreshment for Local Neighborhood Events: After months of forced inactivity, the "Chuck Wagon" was able to find employment at several local neighborhood events. While observing all recommended COVID-19 precautions, the residents still managed to have a good time while enjoying good food prepared fresh by our crew of dedicated volunteers. The folks at the Villas of Wake Forest put on an Octoberfest celebration with decorations and extra goodies provided. This was our second visit to the Villas, and we look forward to many more. The "Chuck Wagon" also visited the residents of Winston Ridge in Youngsville and the clubhouse at Del Webb Traditions. We are scheduled to return to Del Webb in November. These smaller events, although not generally as lucrative as a Friday Night on White concert, help to provide much needed funds to support local Veterans in need, as well as provide exposure for our Post in its attempt to recruit and sustain members. We are so grateful to these very generous and friendly residents of our wonderful area! We would be happy to visit your neighborhood to serve up some of our delicious Hot Dogs, Burgers and Brats!