A sampling of some of the events that Wake Forest Memorial VFW Post 8466 hosts, sponsors, or participates in. Check our calendar to see our upcoming events.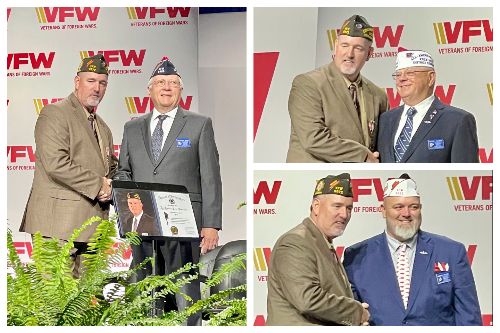 24 July 2023 - All-American Honors: We are proud to announce that 2022-23 Post 8466 Commander Bill Wade, 2022-23 District 7 Commander David Martin, and 2022-23 Department of North Carolina Commander Tim Woods were all presented with All-American honors by Commander-in-Chief Tim Borland at the 124th VFW National Convention in Phoenix on Monday. Three great Commanders of three great units, all within our great State of North Carolina. Congratulations to each, and to all the VFW members who made it possible.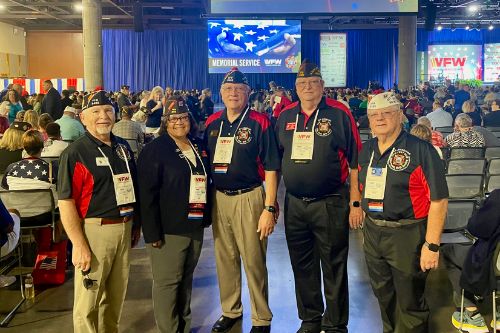 23 July 2023 - 124th VFW National Convention: Your VFW Post 8466 leadership at the 124th VFW National Convention in Phoenix, AZ. Attending the annual Memorial Service to honor Gold Star families as well as to honor the service of deceased leaders and members of the VFW are (l-r) Joe Csuka, Past Post 8466 Commander; Helen Nelson, 2023-24 Department of North Carolina Commander; Bill Wade, 2023-24 All-American Post 8466 Commander; Charlie Cable, long-time outstanding Post 8466 All-American Quartermaster; David Martin, Past District 7 and Past Post 8466 Commander. Still working to serve Veterans.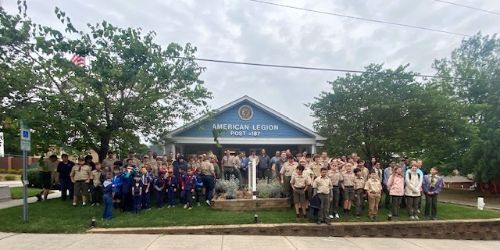 27 May 2023 - Memorial Weekend Veteran Gravesite Flag Placement: Members of Post 8466 along with members of other veteran organizations and civic groups, braved the elements to place an American Flag in front of over 1200 veteran graves in over 15 cemeteries within Wake Forest and surrounding areas. A number of civic organizations, scout troops, family members and neighbors assisted in this enormous venture. It is a wonderful teaching point for the youth of the community and a great reminder of the sacrifice made by so many young men and women over the years. Just prior to dispatching to the cemeteries a group photo was taken in front of the American Legion building located at 225 East Holding Avenue. The flag decoration undertaking usually takes between 2-3 hours depending on the number of volunteers.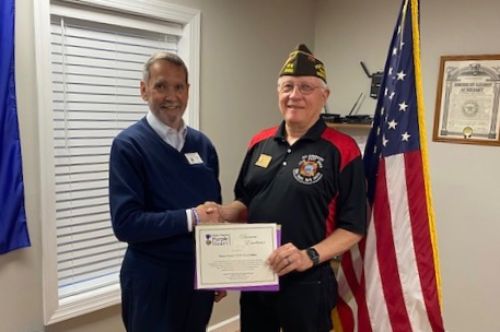 4 May 2023 - Wake Forest Purple Heart Foundation Thanks Post 8466: At our monthly meeting on Thursday, 4 May 2023, VFW Post 8466 was presented a Certificate of Appreciation for all that it has contributed to the Wake Forest Purple Heart Foundation. Presenting the award is Greg Harrington, a board member of the foundation and one of its founding members. He is also a member of VFW Post 8466. Accepting the award is Bill Wade, current Post Commander. The Wake Forest Purple Heart Foundation hosts an annual banquet to pay tribute to all Purple Heart recipients. Their mission is to provide a forum for the local community to honor Purple Heart recipients and their families, to foster an environment of goodwill among combat wounded Veterans, to promote patriotism and to encourage the sharing of recipient experiences so future generations will know of the sacrifices made by Veterans and their families. This year's banquet will be held at the Richland Creek Community Church on Saturday, 5 August 2023. For more details or to obtain tickets, email info@WakeForestPurpleHeartFoundation.org.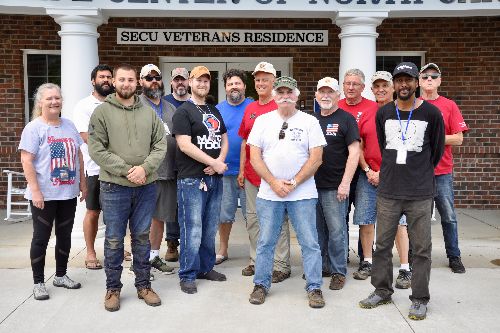 15 April 2023 - Members of Post Join Residents of Veterans Life Center in a Day of Service: Members of our Post joined with staff and residents of the Veterans Life Center in a Day of Service at the facility in Butner, NC. In one full day of effort, several truckloads of mulch and topsoil were spread around the trees, shrubs and gardens of the facility. Mixing work and camaraderie made for a very pleasant and meaningful day. Post members were pleased to join the residents at lunch and to tour the building and grounds. They all agreed that they would be in favor of conducting more activities with and for the residents. Post Adjutant Al Zack said, "I was very impressed by the Veterans Life Center, staff and the residents. Great bunch of people, and hard workers". The Veterans Life Center is a purpose-built facility designed to assist returning military members get their lives together and prepare them for rejoining civilian society in a productive way. You can learn more about the Veterans Life Center by clicking here. Pictured are members of the VFW work detail, along with staff and residents of the Veterans Life Center.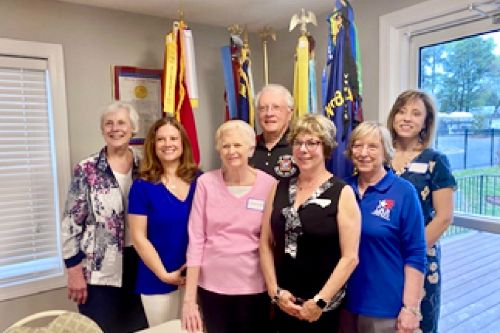 6 April 2023 - DAR Provides Tasty Desserts at Monthly Meeting: The General James Moore Chapter of the Daughters of the American Revolution of Wake Forest helped the members of our Post celebrate National Vietnam War Commemoration Day at our monthly meeting, conducted the evening of April 6, 2023. Dinner is regularly served prior to the scheduled meeting, and the ladies provided a variety of tasty desserts, enough for more than the number of members that normally attend. The Commander invited the ladies to share the delicious meal prepared by Comrade Doug Doster. Everyone was delighted with the meal and the amazing desserts prepared for the special occasion. Standing for a group photograph (from left to right) are Mary Lou Veal, Barbara Bowers, Carolyn Coordes, VFW Commander Bill Wade, Regent Debby Butler, Pauline Bell and Michelle Entrop.
23 March 2023 - Post Honors Canadian Veteran: Twice a month, members of the Wake Forest Memorial Post 8466, Veterans of Foreign Wars, conduct what it calls Veterans Coffee and Community Outreach. The program is designed to assist Veterans, both young and old, who are suffering and might attempt to deal with their pain alone. The self-help approach doesn't generally provide Veterans the help they require and, unfortunately, can lead to homelessness and suicide. One of the attendees at the recent evening event held on Thursday, March 23, was honored with Post Commander Bill Wade presenting a commemorative T-shirt to Peter Carlos, a 31-year Canadian Army veteran, for his volunteer efforts in the outreach program.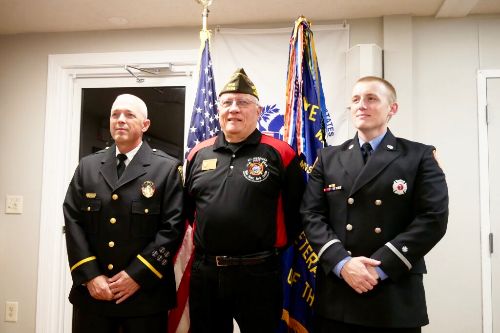 2 March 2023 - Post Presents First Responder of the Year Awards: VFW Post 8466 honored two first responders from the Youngsville Fire Department and Wake County EMS with a special award at their monthly meeting. Youngsville Fire Department's Lt. Garrett Joyner and Wake County and EMS District Chief Chris Keller received the post's first responder award, part of the VFW's nationwide recognition of first responders. After their recognition at the local level, both honorees will be considered at the state level, which could lead to possible national recognition. "It is an honor to serve the community around here," Joyner said. "And it's a special part in a lot of people's lives. And on behalf of myself and a lot of first responders, I'd like to thank the community for being who they are because it makes our job." On top of serving as a full-time lieutenant, fire apparatus driver and EMT, Joyner also takes time to train and guide volunteers and coordinate the junior firefighter program. Keller began work as a Wake County paramedic in 1997 and now serves on several special operations teams. In addition to his work in the EMS to serve the county, Keller also serves his country. He began his military career in 1989 and served in operation Desert Shield and Desert Storm. Shortly after 9/11, Keller became an Army reserve soldier and served as a health care specialist combat medic. He deployed to Afghanistan 2006-08. Both honorees emphasized their gratitude to be honored by the veterans in VFW Post 8466. (Photo and article by Laura Browne, Wake Weekly)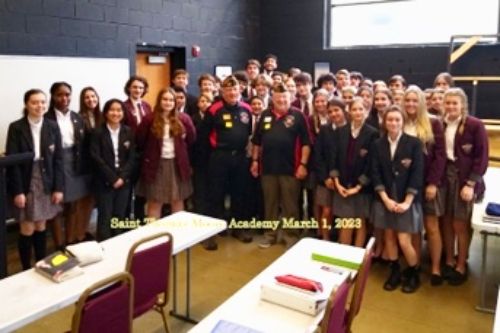 1 March 2023 - Veterans Present Experiences of the Vietnam Conflict: Students from Saint Thomas More Academy, Raleigh, are conducting an analysis of the nation's involvement in the 20 year conflict in the Republic of South Vietnam. Veterans who served in the war during the 1960s and members of Veterans of Foreign Wars from Post 8466, Wake Forest, were asked to present experiences and involvement in the conflict to the students to provide a personal understanding and a frame of reference. The students were gracious for the presentations of Commander Bill Wade (U.S. Navy) and Rich Heroux (U.S. Army). Student questions were thought-provoking and directed to the experiences of the veteran's involvement in the conflict.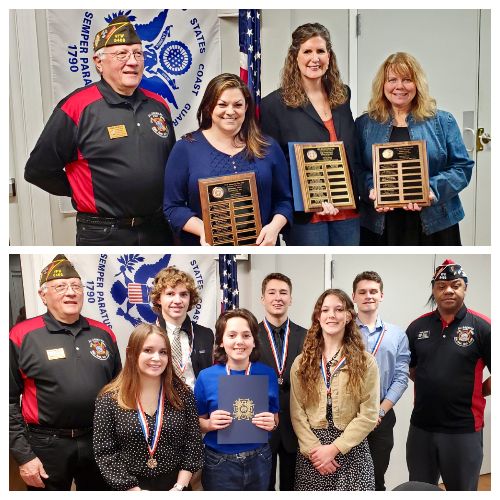 2 February 2023 - Post Presents 2022/23 Voice of Democracy, Patriot's Pen and Teacher of the Year Awards: Post 8466 was pleased to host the winners of its 2022/23 Voice of Democracy and Patriot's Pen Essay Contests as well as the 2022/23 Post 8466 Teachers of the Year at a dinner in their honor prior to the regularly scheduled monthly Post meeting on Thursday, 2 February 2023. In front of Post Members and the honorees' family members, Post Commander Bill Wade and Chairman Lon Smith presented awards to the following recipients:
Patriot's Pen: 3rd Place, Daniel Sanders; 2nd Place, Bobby Anderson; and 1st Place, Bella Pierrette. It was announced that Ms. Pierrette also won the District Competition and will be representing Post 8466 and District 7 at the Department Competition.
Voice of Democracy: 3rd Place, Carson Townsend; 2nd Place, Taylor Hedrick; and 1st Place, Jordon Pittard. All three winners are students at Wake Forest High School, and are members of the WFHS JROTC.
Teachers of the Year: Elementary School, Ms. Amanda Joyner; Middle School, Ms. Darlene Perry; and High School, Ms. Dana Barnes. Ms. Barnes has also been named District 7 Teacher of the Year. We extend our congratulations and a hearty "Thank You" to each of these outstanding educators.
We will be announcing the topics for the 2023/24 contests shortly. Keep an eye out and encourage any Middle School students to enter the Patriot's Pen Contest for a chance at a $5,000 top prize, and any High School students to enter the Voice of Democracy Contest to compete for the top prize of a $30,000 scholarship. And, of course, please honor any teacher who you think excels at promoting citizenship, patriotism and scholarship by nominating them for Teacher of the Year!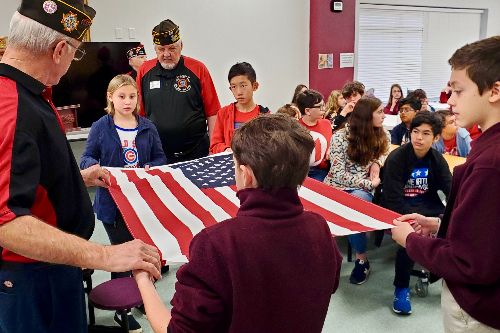 1 February 2023 - St. Catherine of Siena School Hosts Flag Etiquette Class: Several members of our Post went to St. Catherine of Siena School in Wake Forest as part of their Catholic Schools Week ceremonies. In a morning session with 6th, 7th and 8th graders, Dan Irons spoke briefly about being a Veteran of the Korean War, and David Martin spoke about his experiences in Vietnam. Several others also spoke about their experiences. Then we presented a class on proper handling and display of our Flag followed by a demonstration of how to properly fold a Flag, with an explanation of what each fold means. The highlight of the morning was the opportunity for many of the students to actually get "hands on" and fold a flag themselves, with proper instruction and guidance by Post members. The afternoon session was for 3rd, 4th and 5th graders, with much of the same content, tailored for the younger students. We were all impressed with how engaged, attentive and respectful each of the students were. The lower grades (K-2) participated in a "dress-down" day in which they were allowed to wear casual clothes to school in return for bringing in a donation to the collection jar, which was then donated to VFW Post 8466. They raised over $400! Thank you to the administration, staff and teachers of St. Catherine for having us come and do this for their students, but especially thank you to the students for their kindness, courtesy and participation!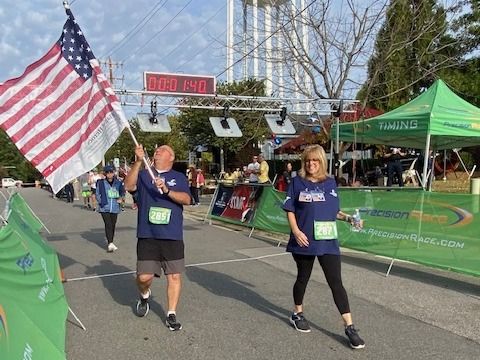 8 October 2022 - Tunnel 2 Towers 5K Race/Walk Triangle: To celebrate the 20 year anniversary of the National T2T 5K race/walk in Wake Forest approximately 450 participants assembled in front of the American Legion building, waiting for the 9:11 AM start of the 2022 event. Several local area Fire Department teams competed for the Tunnel2Towers trophy that has been won by a team from the Raleigh Fire Academy for the past two years. A number of participant categories were available to make the event more competitive for people depending on age. There was competition for small fries ages 3-5, youths up to teens, and grown-ups. Everyone participating in this year's event was inspired by the words of race director Lloyd Randle, a New York City Fire Fighter, who was present during the tragedy that occurred on September 11, 2001. Tears rolled down his face as he related the story of his experiences that unbelievable day. The Tunnel2Towers 5K Race/Walk is significant because of the daring actions of Stephen Siller, a New York City Fire Fighter who was barred from driving to Manhattan Island to assist in rescuing people from the burning World Trade Center. Stephen donned his firefighting equipment and ran on foot to the scene where he ultimately gave up his life saving others. Races such as the Tunnel 2 Towers are held all over the United States to raise money to provide smart homes for catastrophically injured military servicemen and first responders that enable our severely injured heroes to live more independent lives. They also provide mortgage free homes for military and first responders who lose their lives in the line of duty.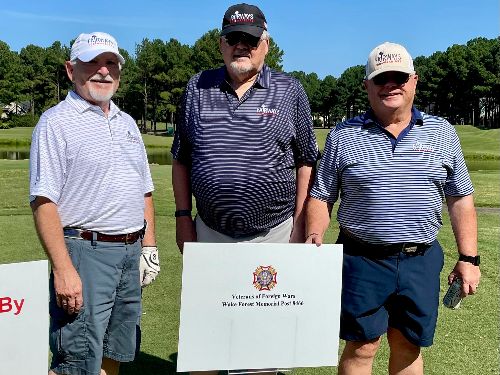 19 September 2022 - Post Sponsors Fairways for Warriors Golf Tournament: The mission of Fairways for Warriors is to provide hope, healing, and camaraderie for combat wounded Veterans and their families. It is a program intended to help heal these Veterans, both physically and mentally, while surrounded by other Veterans who understand what they were going through. It has been proven that recreational therapy can be used as an adjunct to clinical therapy, and in many cases is successful in its own right as a treatment protocol. The program uses the game of golf to help with the physical, cognitive, emotional, and social aspects of each combat wounded Veteran's rehabilitation process. Most events are no charge to the Veteran, and the organization will even provide clubs, balls, lessons, and more for the novices at no charge. VFW Post 8466 is proud to not only be one of the sponsors of this year's fundraiser at Heritage Golf Club, but also to provide volunteers to help ensure its success. Team VFW also played the tournament and, while we demonstrated that none of us is quite ready for the PGA Tour, we were proud to not finish last. To learn more about Fairways for Warriors, please visit fairwaysforwarriors.org.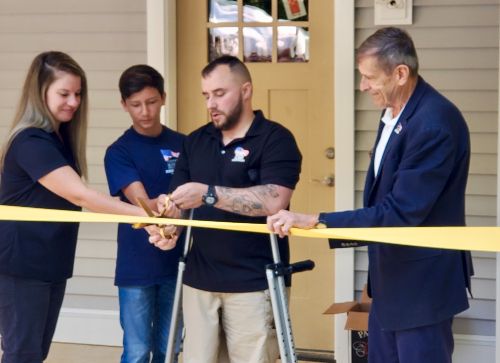 17 September 2022 - Post Member Derrick Sharpe Receives New Home: Homes For Our Troops (HFOT) is a publicly funded 501(c) (3) nonprofit organization that builds and donates specially adapted custom homes nationwide for severely injured post-9/11 Veterans, to enable them to rebuild their lives. On 17 September, they presented Post member Derrick Sharpe with a new home. Corporal Sharpe received life-threatening injuries when he stepped on an IED in Iraq in 2006. He underwent years of surgeries, treatments and therapies, and fell under the influence of what he calls "demons of darkness". Finally, with the help of the Lord and his wife Cara, Corporal Sharpe has emerged to rebuild his life and start a career in cyber technology. After raising over $35,000 on his own toward the cost of the house, HFOT funded the remaining costs. Several members of our Post were present at the ceremony, and we all wish Corporal Sharpe the best in all his future endeavors.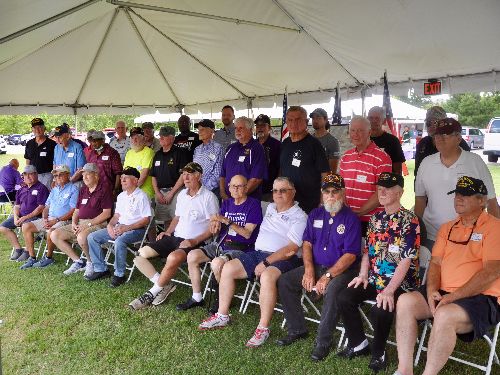 6 August 2022 - Wake Forest Purple Heart Foundation Hosts Purple Heart Recipient Reunion Picnic: The Purple Heart Reunion Picnic is held each year to honor those who have been wounded in battle. In addition to Purple Heart Medal recipients and their families, the picnic is open to all Veterans and military families. The event featured the usual entertainment, patriotic tributes and a catered meal. This year's menu included Hot Dogs, Hamburgers and Bratwurst sandwiches prepared by the crew of the VFW Post 8466 Chuck Wagon which were served with a variety of accompaniments, drinks and desserts. Food items were mostly donated by the Wake Forest Purple Heart Foundation, the Forks Cafeteria and others. The guest speaker was First Lieutenant Patrick C. "Clebe" McClary III, USMC (Retired) and his wife Deanna. The colors were presented by the Wake Forest High School JROTC Color Guard, and the American Flag proudly flew from the Wake Forest Fire Department Ladder 1 Truck. Almost 50 Purple heart recipients were honored by several hundred family members and guests under clear blue skies at the Richland Creek Community Church soccer field.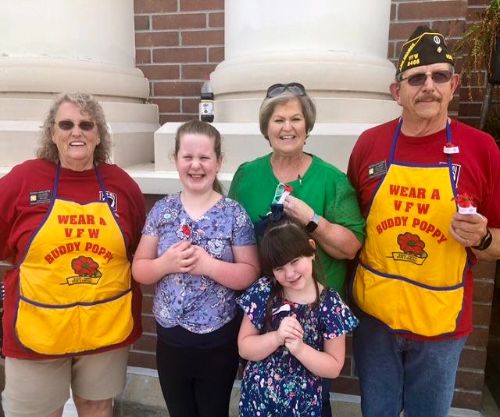 May 2022 - Post Conducts Its Annual Buddy Poppy Campaign: The Post distributes Buddy Poppies at most of its events throughout the year, but we concentrate our efforts on our annual campaign during the month of May each year, leading up to Memorial Day weekend. We couldn't fulfill our primary mission of providing assistance to local Veterans in need without the donations we receive each year during this campaign. We never miss an opportunity to thank the Walmart stores in Wake Forest and Louisburg for allowing us to conduct this important fundraiser at their stores each weekend in May. We must also thank the chairs of our Buddy Poppy Campaign for their endless efforts to make sure we meet (and exceed) our goal each year. Of course, we couldn't do this without our volunteers, who spend hours of their time distributing the poppies and collecting the donations. Lastly, but most importantly, we must thank the good citizens of the Towns of Wake Forest and Louisburg for their kind support and very generous donations. Thank you all !!! Pictured here, along with some of our donors, are just a couple of our volunteers, Bill and Diana Lancaster. Both are members of our Post and spent many hours at the Louisburg Walmart making sure that our campaign was the great success that it turned out to be. We encourage all of you to wear your Buddy Poppies, especially on Memorial Day weekend, to show that you remember those who sacrificed their lives for our country and your freedoms.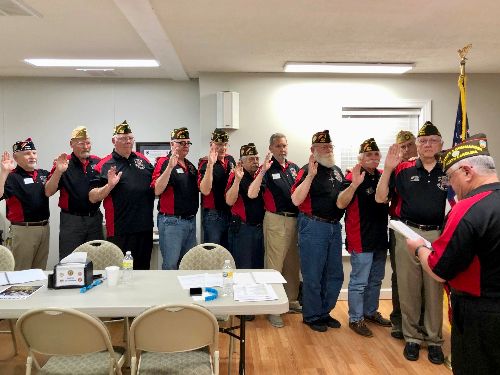 5 May 2022 - Post Installs New Officers for 2022 - 23 Membership Year: As a part of the May 5, 2022 monthly meeting of Wake Forest Memorial Post 8466, Veterans of Foreign Wars, the formal procedure of swearing-in the newly elected Officers for the year 2022-2023 was conducted. Past Commander and current District 7 Commander, David Martin officiated the installation ceremony. Newly installed officers starting from the American flag are; Commander, Bill Wade; Senior Vice Commander, Jim Duguid; Junior Vice Commander, Tony Attina; Chaplain, James Dyer: Trustees, Greg Harrington and Frank Nosal; Service Officer, Brian Hopf; Sergeant-at-Arms, Doran Johnson; Judge Advocate, Howard Lowdermilk; Surgeon, Doug Doster and Trustee, Joe Csuka. Absent from the ceremony are Quartermaster, Charlie Cable and Adjutant, Al Zack. Officers will take command of the Post at the conclusion of the Department of North Carolina Convention in June 2022.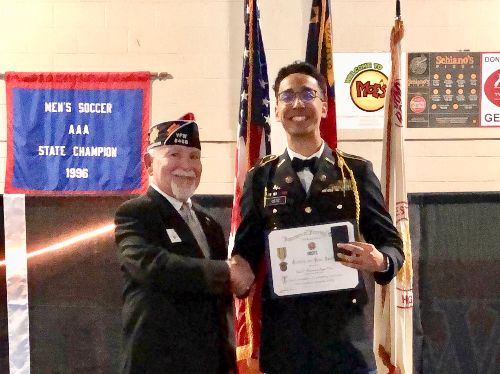 30 April 2022 - Post Presents JROTC Cadet of the Year Award: Wake Forest High School held its annual Army JROTC Military Ball on Saturday, 30 April 2022, presented by the Wake Forest High School Cougar Battalion. The festively decorated high school gymnasium welcomed the formally attired cadets of the JROTC Cougar Battalion, members of the Booster Club, parents, staff and other guests and dignitaries. Colors were presented by the JROTC Color Guard, followed by a welcoming speech by Cadet LTC Catarina Healy and formal toasts. Dinner was provided and served by the JROTC Booster Club followed by the awards ceremony. An impressive number of cadets were presented awards and scholarships from various organizations. Among those honored was Cadet 1st LT Ryan Ortiz (pictured), who received the Veterans of Foreign Wars Citation and Medal from Post 8466 Commander Joe Csuka in special recognition of outstanding achievement and exceptional leadership ability. Cadet Ortiz presently serves as Bravo Company XO and participates as a member of the Raider and Color Guard Teams. Also recognized were Cadet LTC Catarina Healy who has been appointed to the US Naval Academy at Annapolis, and Cadet CSM Lia Stokes who has been appointed to the US Military Academy at West Point. We are bursting with pride at the accomplishments of these young men and women and wish each of them the best of everything that life has to offer in the coming years.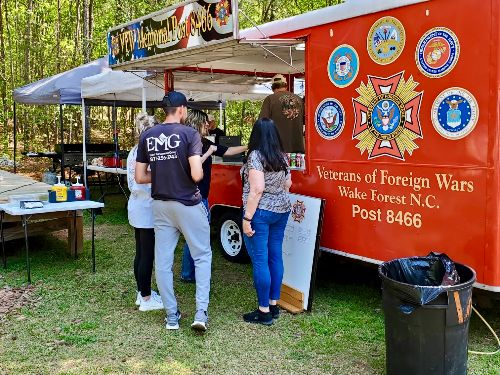 23 April 2022 - VFW "Chuck Wagon" Serves at Bud's Tavern: The VFW Post 8466 "Chuck Wagon" is getting more and more popular as our reputation for good food grows throughout the community. Not only do we serve at each Friday Night on White event from April until September each year, but we participate in many other events around the area. This year we were kindly asked by the good folks at Bud's Tavern in Youngsville to provide the food and snacks for their first annual Spring Fling Arts & Crafts Show. The event featured over 200 local vendors with a variety of wares for every taste and need. The Chuck Wagon served its regular fare of Dogs, Burgers and Brats, and was well-received by everyone.
*** UPDATE *** Our showing at the Arts & Crafts Show was so successful that Bud's Tavern invited us back on 12 June 2022 to serve at their first annual Bike Fest. Several hundred motorcycle enthusiasts and Bike Clubs showed up to swap stories and compare rides. Live music was presented by the band "Automag", and the event featured raffles, prizes and of course, the great food prepared and served by the "Chuck Wagon". Despite the heat, a good time was had by all!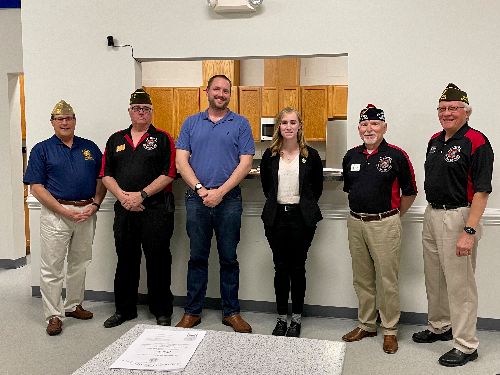 21 March 2022 - Post Awards EMT of the Year: At a ceremony at the Youngsville Rescue Squad and EMS Headquarters in Youngsville, Post 8466 presented its EMT of the Year award to Ms. Abby Garman, a volunteer member of the Youngsville Squad. Ms. Garman was nominated by Assistant Chief Tim Supples because of her dedication to duty and distinguished performance. Additionally, according to Asst. Chief Supples, Abby "has earned the respect and fellowship of the Franklin County EMS staff; something that is not always an easy task". Abby first volunteered in 2021 while a student at NC State and quickly earned her certification to practice as an EMT and has exceeded expectations. She has been accepted to Campbell University School of Medicine, but continues to volunteer with Youngsville Rescue and EMS.
*** UPDATE *** At the Department of North Carolina Convention, held in Greensboro this June, Ms. Garman was awarded EMT of the Year for the State of North Carolina, and presented with a certificate from National Headquarters.