google-site-verification=Na7hIMfjB7Xph4C6rrdZ1Rr8yaHLyV6kQTW2ukDhqA0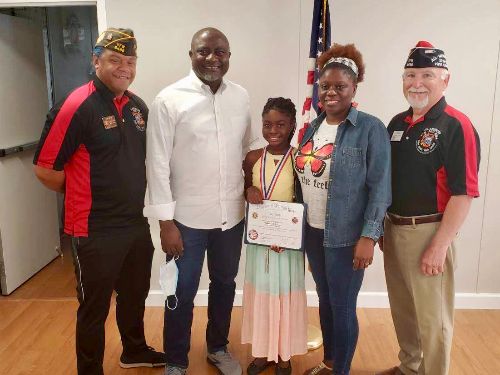 5 May 2021 - Post Presents Patriot's Pen Essay Contest Winner:

Wake Forest Memorial VFW Post 8466 is pleased to announce that Wilhelmina Johnson, a 7th grade student at Rolesville Middle School, is the Post's first place winner in the annual Patriot's Pen youth essay contest. She wrote her winning essay based on this year's theme of "

What is Patriotism to Me?

" The award was presented at a brief ceremony at the American Legion Hall in Wake Forest in front of Wilhelmina's family and several members of the Post. We are proud to have Wilhelmina represent our Post in the Patriot's Pen competition and are confident that she will have a very bright future. Pictured (left to right) are: Patriot's Pen Chairman Lon Smith, Jerry Johnson, Wilhelmina Johnson, Makula Johnson and Post Commander Joe Csuka.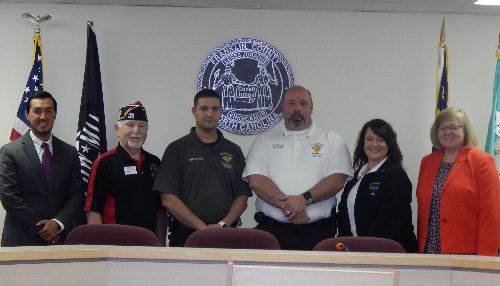 23 April 2021 - Post Presents EMT of the Year Award: As part of its annual First Responder Recognition Program, Wake Forest VFW Post 8466 has awarded its EMT of the Year Award to Paramedic Kehoni Green of the Franklin County EMS. The award was presented to Paramedic Green in the Commissioner's Chambers of the Franklin County Administration Building during a brief ceremony on Friday, April 23. The attendees included several members of Paramedic Green's family, including his wife Victoria, son Maverick and daughter Paisley. The ceremony was arranged and emceed by Richard Tedesco, Colonel USAF, Retired, and the award was presented by Joe Csuka, Commander of VFW Post 8466. Paramedic Green is a member of the Haliwa Saponi Indian Tribe and has always shown an interest in firefighting and lifesaving. After joining the Arcola Volunteer Fire Department in 2004 as a Junior Firefighter, he rose through the ranks to reach the rank of Lieutenant. After completing the Fire Academy at Nash Community College while simultaneously obtaining his EMT certification, he joined the Nashville Fire Department as a full-time firefighter. He found his true calling, however when he joined Wake Mobile and the Franklin County EMS. He has continued to show his drive and ambition, becoming one of the outstanding young members of Franklin County EMS. He has shown a deep commitment to service and the betterment of himself, his coworkers and the community throughout his career and his life. Wake Forest Memorial VFW Post 8466 commends Paramedic Green on his achievements and is proud to honor him as its EMT of the Year. Pictured (left to right) are: Franklin County Emergency Management Director Hendrix Valenzuela, Commander Csuka, Paramedic Green, Captain Richard Lynch, Captain Heather Enroughty and County Manager Kim Denton.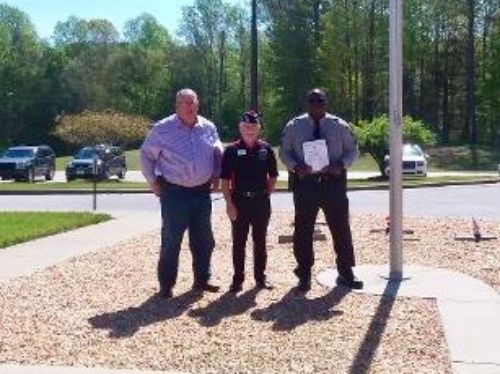 16 April 2021 - Post Presents 2021 Law Enforcement Officer of the Year Award:

Born in Jamaica, Patrol Sergeant Alphanso James had a difficult road through his early years. But once he found his calling in Law Enforcement, he pursued it with all his heart. He has risen to the rank of Sergeant in the Franklin County Sheriff's Office and spends his time, as he put it, "reaching out to the community and helping citizens one call at a time". He spends many of his off-duty hours volunteering at community youth centers, coaching, mentoring, being a friend to local youth and encouraging them to follow their dreams by working hard. He is currently attending Gateway Community College, working toward a degree in Criminal Justice. He has a goal of being Chief of Police some day. Franklin County is fortunate to have such a dedicated officer and Post 8466 is honored to name him as its Law Enforcement Officer of the Year for 2021. Pictured are Franklin County Sheriff Kent Winstead, VFW Post 8466 Commander Joe Csuka and Sergeant James.
12 April 2021 - Post Presents 2021 Scout of the Year Award:

VFW Post 8466 was proud to present its Scout of the Year Award for 2021 to Jackson Hutchison of Troop 399 in North Raleigh. On hand to make the presentation were David Martin, District 7 Commander and Charlie Cable, Post 8466 Quartermaster. Jackson has been involved with Scouting since he joined as a Cub Scout in 2009. He has risen through the ranks to attain his Eagle Scout Rank in 2018. Since then he has participated as Junior Assistant Scoutmaster and currently as Unit Scouter Reserve. A lifelong member of Soapstone United Methodist Church, Jackson has participated in numerous church, school and community groups and projects. He has mentored younger scouts and showed positive leadership at all levels. Jackson plans to enter Appalachian State University in the Fall to study History Education. We are extremely honored to have Jackson as our Scout of the Year, and look forward to following his future endeavors as he becomes a leader in our community and perhaps even beyond.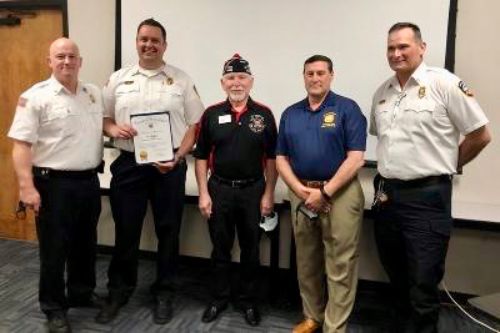 12 April 2021 - Post Presents Firefighter of the Year Award for 2021:
In a semi-formal ceremony at the Wake Forest Fire Department Station 1, on E. Elm St. Wake Forest, a group of people gathered to celebrate the selection of the VFW Post 8466 First Responder – Fire Fighter of 2021. His name is Captain Ian Moffatte, a veteran of thirteen years serving first as a member of a Fire Truck for 10 years prior to being assigned to administrative duties. Ian is married to Michelle and they have a lovely 9 year old daughter, Lily. Pictured after accepting the award from

VFW Post 8466

Commander Joe Csuka, are from left to right: Fire Chief Ron Early, Captain Moffatte, Cmdr Joe Csuka, Rich Tedesco, Chairman of the First Responder Program, and Battalion Chief Ed Barrett. A heartfelt thank you is shouted out to a valiant, patriotic, resourceful fireman, husband, father and First Responder Fire Fighter of the Year.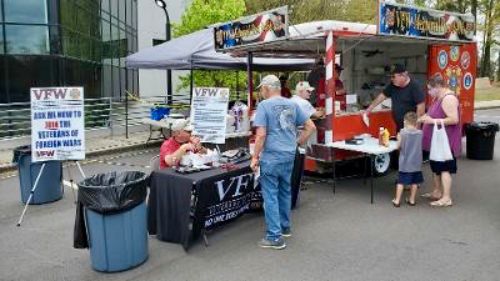 10 April 2021 - Members Represent Post at Veterans' Resource Fair:

The Chuck Wagon crew prepared and served Hot Dogs, Hamburgers and Bratwurst for all while other members tended to our recruiting table to inform attendees about the VFW and sign up new members. The Fair was hosted by the Joel Fund among others and had a number of booths to provide assistance to Veterans looking for information about benefits, insurance and many other topics. The event took place at the Cree Campus in Durham.
22 November 2020 - Post Presents National EMT of the Year Award:
EMT Jared Ray of Eastern Wake County

Emergency

Service was presented with the National EMT of the Year award at their Wendell facility. Paramedic Ray was the recipient of Post 8466's local Post EMT of the Year award for 2019, which was presented last February. His nomination then proceeded up to the National level, resulting in this award. In 2018, Ray graduated from Johnston Community College, where he was valedictorian of his paramedic class. He has since received several other certifications and is currently pursuing his Bachelor's degree, with hopes of attending Medical School. His supervisors praised his dedication to duty and service before self. Many thanks to Paramedic Ray, and we wish him the very best in the pursuit of his dreams. Ray's parents and sister were on hand as well as District Chief Kymberly Lamm, Chief Garland
Tant and several members of VFW Post 8466.
12 November 2020 - Post Presents National Firefighter of the Year Award:
In a very moving ceremony, VFW Post 8466 was honored to present the VFW National Firefighter of the Year Award to the family of the late Firefighter/Traffic Officer Douglas Young of the Rolesville Rural Fire Department. On hand to accept the award was Patsy Young, the widow of the recipient along with several family members. Speakers included Rolesville Mayor Ronnie Currin, Rolesville Fire Chief Rodney Privette and Mrs. Young herself. Many members of VFW Post 8466 were on hand, including Emcee and First Responder Award Committee Chair Rich Tedesco, Post Commander Joe Csuka and District Commander David Martin. Firefighter Young was the recipient of the Post 8466 Firefighter of the Year award last February, and his nomination advanced all the way to National, resulting in this very prestigious award.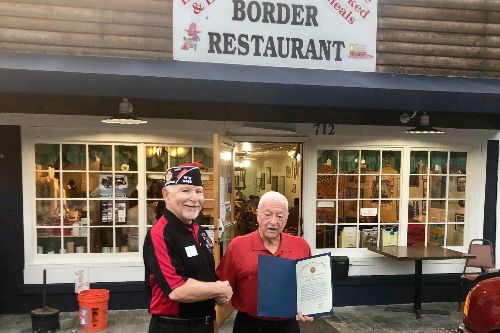 24 Oct 2020 - VFW Post Presents Certificate to Border Restaurant:
Joe Csuka, Commander of Wake Forest Memorial VFW Post 8466, presented an official Certificate of Appreciation to Jerry Ammon, owner of the Border Restaurant for the support he and his patrons have given to our organization over the past year. The restaurant has actively participated in collecting funds in support of the VFW programs that assist local veterans needing help resulting from injuries sustained while in military service. The patrons dining at the North Main Street restaurant regularly deposit extra pocket cash in the Veteran container while paying their food bill. Periodically, the cash is retrieved and deposited in the VFW's Relief Fund where disbursements are made to worthy veterans.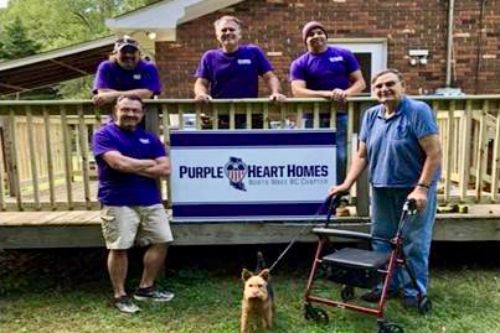 16 Oct 2020 - Veteran Receives Home Repair Assistance:
The North Wake Chapter of Purple Heart Homes is a national organization dedicated to assisting disabled veterans receive help in making improvements to their home to accommodate their disabilities. Meet
Henry (Hank) Pierwola. Hank is a Vietnam Veteran and has been awarded the National Defense Service Medal, Vietnam Service Medal and the Vietnam Campaign Medal. "It was an honor to serve a man that served for our country and our freedom", said Joe Sheehan, Chapter spokesman. Hank is a member of Walter E. Cole American Legion Post 187 and Wake Forest Memorial Veterans of Foreign Wars Post 8466. Purple Heart Homes was able to fix a few unsafe things in his home that he is not able to do for himself. They put in some Ground Fault Circuit Interrupters, (GFCI) to fix some wiring issues. They also installed a new bathroom fan, outdoor flood lights and fixed a dilapidated deck. Thanks to Home Depot Foundation for providing materials and for the crew in giving their Sunday to do this work! Local veterans are delighted that "Hank" is the recipient of this assistance.
9 Oct 2020 - Post 8466 "Chuck Wagon" Provides Refreshment for Local Neighborhood Events: After months of forced inactivity, the "Chuck Wagon" was able to find employment at several local neighborhood events. While observing all recommended COVID-19 precautions, the residents still managed to have a good time while enjoying good food prepared fresh by our crew of dedicated volunteers. The folks at the Villas of Wake Forest put on an Octoberfest celebration with decorations and extra goodies provided. This was our second visit to the Villas, and we look forward to many more. The "Chuck Wagon" also visited the residents of Winston Ridge in Youngsville and the clubhouse at Del Webb Traditions. We are scheduled to return to Del Webb in November. These smaller events, although not generally as lucrative as a Friday Night on White concert, help to provide much needed funds to support local Veterans in need, as well as provide exposure for our Post in its attempt to recruit and sustain members. We are so grateful to these very generous and friendly residents of our wonderful area! We would be happy to visit your neighborhood to serve up some of our delicious Hot Dogs, Burgers and Brats!